"Music today sucks."
You've heard people say it, hell, you've muttered it a few times to yourself while flipping through radio stations (for those of you too young to remember, radio is like a podcast that only plays the same three songs over and over again and feels the need to tell you what time it is every three minutes.)
But when did it all go wrong? How did this happen? There might not be a precise moment that hell spawn demons took over the voice once known as popular music but there does seem to be an invisible gradient  that we have been sliding down for the past forty years and there is one very clear way to map said spiral.
"Weird" Al Yankovic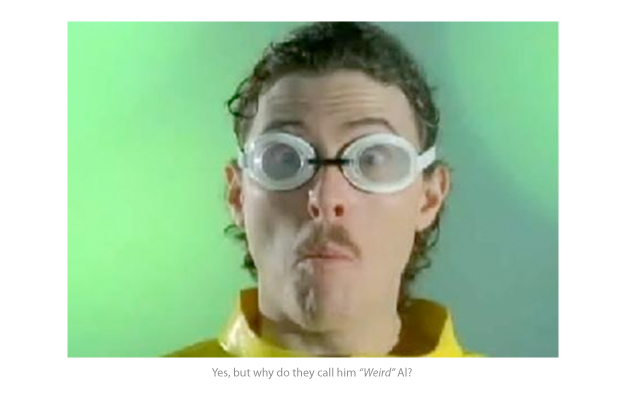 For those of you not familiar with Mr. Yankovic or his work, kill yourself.
Are they all gone? Can we move on? Wonderful!
For almost forty years "Weird" Al has been parodying some of music's most popular songs to the delight of fans all over the world and has sold over twelve million records. His unique writing style produces songs that are clever and often surprising reflections of society while others are just mostly about food.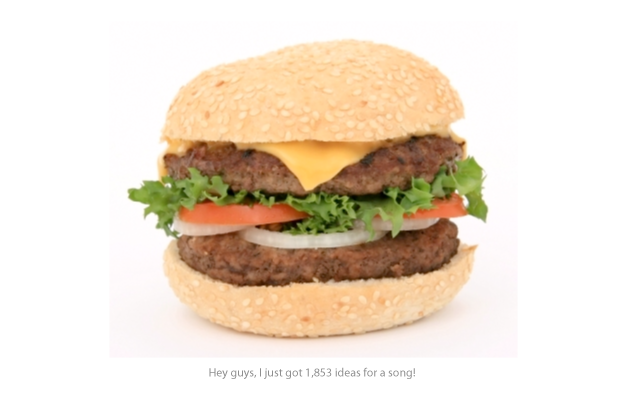 What quickly became a staple of Yankovic's work have been his medleys of pop songs all performed in the style of an energetic polka. They are so popular in fact there have been eleven polka mixes spanning thirteen albums starting with Polkas On 45 off the album In 3-D in 1984 and ending most recently with Polka Face off his newest 2011 album Alpocolypse.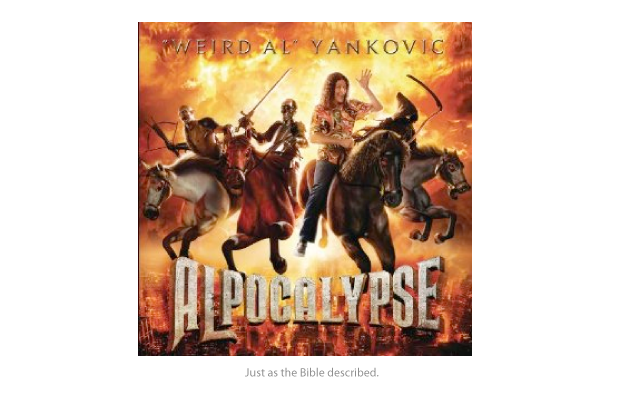 At first glance these songs are just plain fun to say the least but upon further inspection one can actually chart the de-evolution of music by lining them up back to back to back…to back. You see, since "Weird Al" collects all of the most popular songs of that time period, strips them of their instrumentals and shoe horns them into a bustling polka mix, suddenly the snippets of lyrics that get lost in the cloud of the times carry much more clout and their ridiculousness sticks out like Kareem Abdul Jabbar in a Korean airport.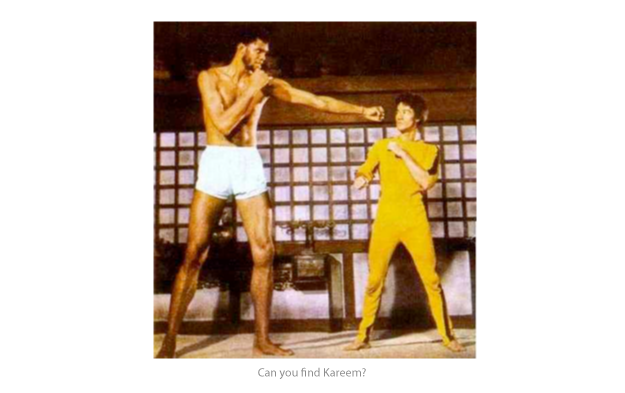 Still not convinced? See for yourself. I've edited together all of "Weird" Al's polka medleys into one awesome collection I have deemed: Mecha-Polka Vs. Godzilla. It is 45:13 long and if you are crazy/brave enough to listen to it completely you will have heard first hand the decrescendo of musical integrity all the way from the beginning with the Beatles:
-"Hey Jude, don't make it bad. Take a sad song, and make it better, remember to let her into your heart, then you can start to make it better, better, better, better…"
To the bitter end with Justin Beiber (I know it's a cheap shot but looks at these lyrics):
-"Baby, baby, baby. Baby, baby, baby. Baby, Baby, Baby…"
And everything in between.
Download now! (right click and save-as yo!)
(If your curiosity has gotten the best of you, and it should have you saucy minx you, you can check out the complete list of "Weird Al" Medleys for yourself.)
Have you witnessed the glory that is forty-five straight minutes of comedic polka gold? Do you thirst for more? You should check out monkeywithamonocle's other posts The Gritty Reboot Of Captain Planet Gets Green Lit and Batman: World's Greatest Detective
Post your incredibly inferior opposing viewpoints and/or your well thought out and finely crafted appreciation below and "LIKE" the post above; OR contact the primate himself atmonkeywithamonocle@gmail.com and follow him on twitter @hungryzoo