Beat Connection's "mini-album"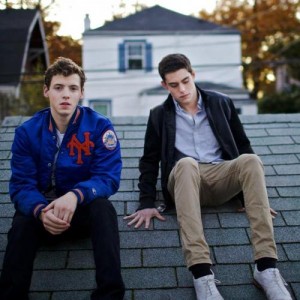 Surf Noir first emerged as a free download on the group's Band Camp last July. Such a calculating title near the tail end of what seemed like a truly endless indie rock summer did the band no favors, and aside from a few respectful plays I slept on it, burnt out on beach pop and the ceaseless parade of dudes with studio apartments full of synthesizers. Gradually, though, Surf Noir's steady pacing and naive, indelible melodies crept into my weekly rotation, and my respect shifted to full blown infatuation when I moved in February from dusty and land-locked Austin, Texas to the California coast. I now commute to work via bike through a bay-adjacent nature preserve, and the combination of this daily hypnotic task with surroundings of such ethereal beauty is perfectly soundtracked by Beat Connection's blend of meandering escapism and pulsing modernity. Listen for the way delicate synth washes are punctured by a house beat and insistent melody lines, bleeding addictively in to an Ibiza-on-a-shoestring jam on stand out track Theme for Yours Truly.
Beat Connection – Theme From Yours Truly
None of this is truly new stuff: Surf Noir borrows more than a few tricks from recent acts, mixing Washed Out's interlocking narcotic sprawl with Memory Tape's sense of pacing and arrangement as well as Black Moth Super Rainbow's love of shaky, disconnected tones. These nods can be sometimes be glaringly obvious but never sound forced or inauthentic. Silver Screen starts off with a well-worn IDM flute vamp and a token smattering of auxiliary percussion (including the elusive crank ratchet) but settles nicely into a catchy world-pop chorus and a Graceland-worthy wordless bridge.
Beat Connection – Silver Screen
Perhaps most important for a record so tied to the water is how well this "mini-album" flows: Beat Connection fill out every inch of its shorter running time and even tossed-off numbers such as Motorway and Wildheart become part of a larger whole. This is simple zeitgeisty stuff done well with a minimum of pretension, and while it may not change your life, it's almost guaranteed to brighten your day.
Surf Noir was officially released by Republic of Music in April. You can purchase it via iTunes or Amazon.